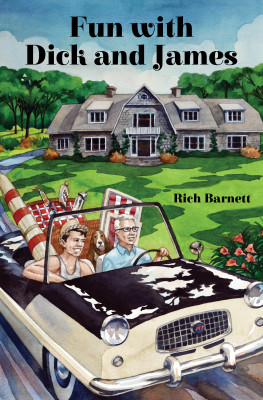 Awarded 1st Place by Delaware Press Association
"A campy read…The stories in this collection are solid humor." – Judge for the 2017 Delaware Press Association awards
Meet Dick and James
Dick Hunter is a Delaware blue blood who would be perfectly happy to spend his days writing obscure historical biographies, taking naps, and lying on the beach, but he seems to find himself in one jam after another.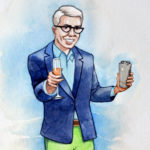 Fortunately, his young boyfriend, James Flores, is a natural problem-solver, even though his methods aren't always by the book.
Follow the escapades of Dick and James (and their basset hound, Otis) as they navigate the shifting sands of Rehoboth Beach, Delaware, facing one crazy conundrum after another. Fun with Di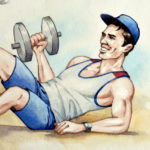 ck and James is a delightful new romp by Rich Barnett, author of The Discreet Charms of a Bourgeois Beach Town: Rehoboth Beach Stories.
See Dick and James Run
Dick and James are variously assisted and resisted by a quirky cast of characters that includes an heir to a fading french fry empire, some new neighbors who are a bit clueless when it comes to life in Rehoboth, and Dick's diabolical nemesis. Stirring the pot are Dick's ex-wife, Kissy (a Rehoboth Realtor with a flair for drama), and Dick's meddling sister, Jane.
Whether Dick is organizing the Daffodil Strut, preparing for a hurricane, or just hosting a simple game of cocktail croquet, his best-laid plans often go awry, and James must come to the rescue, whisking Dick from the clutches of his well-meaning friends, conniving relatives, and a scheming arch-enemy. Fun with Dick and James is a wacky whirlwind of entanglements, misadventures, and style.
"A campy read…The stories in this collection are solid humor." – Judge for the 2017 Delaware Press Association awards
Meet the Author
Rich Barnett is a columnist and author. His "CAMP Stories" column for Letters from CAMP Rehoboth just celebrated ten years. Rich's fiction and nonfiction work has appeared in Revealing Rehoboth: An Insider's Guide, Saints and Sinners: New Fiction from the Festival (2014 and 2016), The Beach House, and other publications. His book The Discreet Charms of a Bourgeois Beach Town was published in 2012. Rich earns a living in Washington, DC, but makes a life in Rehoboth Beach, DE.
Save
Save
Save
Save
Save
Save
Save
Save