Pulp Anthology Open for Submissions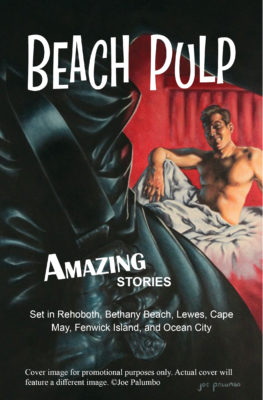 New Non-Contest Anthology "Beach Pulp"
Based on the success of our romance collection, Beach Love, we've decided to do another non-contest anthology. This one will feature the amazing kinds of stories found in old pulp magazines.
Beach Pulp gives you a chance to put your retro skills to the test and have some fun. We're looking for space men, giant insects, robots, heroes on horseback, hard-boiled detectives, saucy ladies (or gentlemen) in distress, chemistry experiments gone bad, mysterious events, and masked marauders…at the beach. Story length should be 750–4,500 words.
Stories should be set in beach towns (or waters or air space) along the Delmarva coast and southern NJ coast. We're especially seeking stories set in Rehoboth, Bethany Beach, Lewes, Cape May, Chincoteague, and Ocean City (MD). Mentions of actual places (restaurants, inns, museums, stores, etc.) is encouraged, but keep descriptions positive. If description is disparaging, create a fictional location.  All characters and character names should be fictional.
Here's a great resource for inspiration: https://www.pulpmags.org/
Playful imitation, not plagiarism, please.
The deadline for submissions is August 31, 2018. Email your story to nancy@catandmousepress.com
Stories will be selected by the publisher, with help from the associate editor and volunteer readers. Authors of accepted stories will be paid a flat fee, given a free book, and allowed to buy additional books at a discount (no purchases or fees are required).
Genres

Sci fi (aliens, spacemen, robots, rocket ships)
Fantasy
Western
Magic, Supernatural, Ghosts
Retro Crime/Gangster/Hardboiled Detective/FBI/Secret Agent
Pirates/Mermaids
Superhero/Superpowers
Heroes and Villains
Action/Thriller
Horror/Weird Menace
Retro Romance (especially 1920s-1930s)
Damsel (or Gentleman) in Distress
Crazed Animals/Monsters
Adventure/Swashbuckler