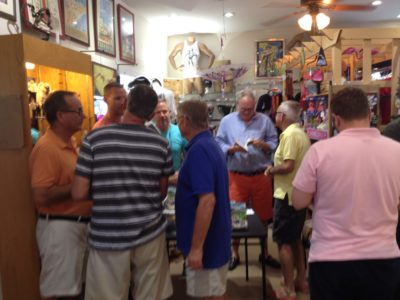 Sangria and Signings
A lively crowd converged on Proud Bookstore in Rehoboth Beach, DE, June 26 to celebrate the launch of Rich Barnett's latest book, Fun With Dick And James. As they sipped sangria (made from James's recipe, which is in the book) and chatted with the author, the attendees snapped up copies of book, often two or three at a time.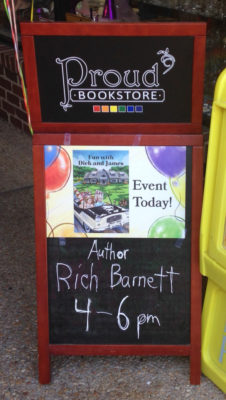 Artist Mick Williams, who is the talented illustrator who drew the cover illustration and provided the character drawings for the book, was in attendance, along with a few local celebrities.
Nancy Sakaduski, Joe Sakaduski, and Cindy Myers were there representing Cat & Mouse Press, the book's publisher, and Proud Books owner, Jocques LeClair (with Toby the cat), served as host.