Cat & Mouse Press Sells 25,000th Book
A Remarkable Milestone for Cat & Mouse Press
Lewes-based indie publisher Cat & Mouse Press announced today that they have sold their 25,000th book. The company, which was founded in 2012, publishes beach reads for adults and children. The milestone book was a copy of Beach Secrets sold to Browseabout Books in Rehoboth Beach.
"Since their first year, Cat & Mouse Press has produced high quality books that customers love," says Susan Kehoe, owner of Browseabout Books. "People enjoy reading stories that reference restaurants, hotels, and activities they recognize. We have customers who come in year after year, looking for the next book in the series."
Beach Secrets recently won three state-level awards from Delaware Press Association. Like many of the books published by Cat & Mouse Press, it contains short stories set in and around Rehoboth Beach. The book resulted from the Rehoboth Beach Short Story Contest, which is now in its tenth year.
"When I started the company," says Nancy Sakaduski, owner of Cat & Mouse Press, "there were no local publishers and few books set in Rehoboth." She says she knew she had a winner when the first book in the Rehoboth Beach Reads series, The Beach House, was the top-selling book at Browseabout that year, outselling everything except Legos.
The Rehoboth Beach Reads series is known for its wide range of stories, chosen each year by a panel of judges, and written for that year's theme. In Beach Secrets, for example, readers meet philandering fiancés, teenage tinkerers, and romantic rock stars; discover cryptic letters, historical legends, and family secrets; and encounter a WWII submarine, an avenging wife, and a lucky chicken. There are even a couple of crossword puzzles to solve.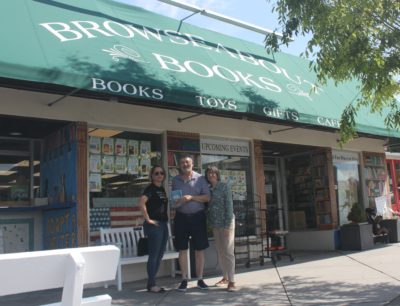 L to r: Susan Kehoe, owner of Browseabout Books, Joe Sakaduski and Nancy Sakaduski, owners of Cat & Mouse Press