2022 Short Story Contest Opens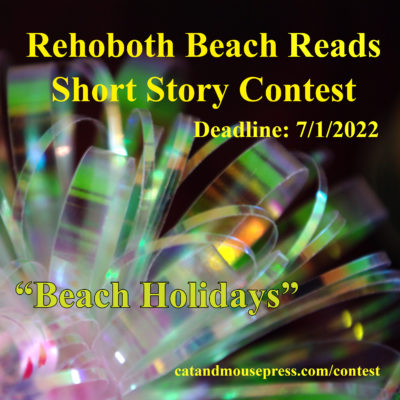 Theme for 2022 is "Beach Holidays"
The Rehoboth Beach Reads Short Story Contest invites writers to submit stories of 500-3,500 words that feature Rehoboth Beach and fit the year's theme, which for 2022 is "Beach Holidays." The first-place winner will receive $500, second-place $250, and third-place $100. The top 20-25 stories will appear in the anthology Beach Holidays, to be published by Cat & Mouse Press in November. The contest, now in its tenth year, is sponsored by Browseabout Books in Rehoboth Beach.
"We thought our tenth year was cause for celebration, so "Beach Holidays" seemed an appropriate theme," says Nancy Sakaduski, owner of Cat & Mouse Press. She emphasizes that all holidays are fair game. "We hope to get plenty of Christmas stories, but we would love to be able to include holidays from throughout the year and from a variety of traditions." She suggests authors be creative and open their minds to all possibilities. "As in the past," she says, "writers will put their own spin on the theme. Submissions that stand out to the judges definitely have an advantage."
The deadline for entries to the Rehoboth Beach Reads Short Story Contest is July 1, 2022. The fee to enter is $10 per entry, and each writer can submit up to three stories. Entries will be evaluated by a panel of judges and chosen based on creativity, quality of writing, suitability as a beach read, and fit with the theme. Contest information and guidelines are posted on the Cat & Mouse Press website (www.catandmousepress.com).
Potential entrants are encouraged to read How to Write Winning Short Stories and its companion workbook. For a limited time, contest sponsor Browseabout Books will be offering a specially priced writer's bundle of $25 for both books. Entrants can also read the previous books in the Rehoboth Beach Reads series to see the kinds of stories judges selected in prior years.