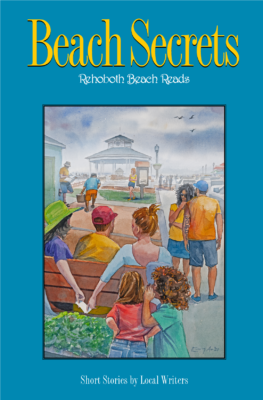 Beach Secrets Now Available
The latest book in the Rehoboth Beach Reads series, Beach Secrets, is now available. The anthology contains the winning stories from the 2021 short story contest.
Beach Secrets includes a wide variety of stories. Readers will encounter meet philandering fiancés, teenage tinkerers, and romantic rock stars; discover cryptic letters, historical legends, and family secrets; and encounter a WWII submarine, an avenging wife, and a lucky chicken. There are even a couple of crossword puzzles to solve. The book is available at Browseabout Books and here.
Zoom Launch Party
A Zoom-based launch party will be held Saturday, November 20, at 2 p.m. The event will feature authors of the stories and entertainment that involves sharing and guessing secrets of many kinds. The event is free and open to the public, but reservations are required. Email nancy@catandmousepress.com for more information.
Stories in the Book
"A Well-Watered Mind," Kim DeCicco
"At the Water's Edge," Carly Tagen-Dye
"Beach Misses," Lonn Braender
"Billy's Night Out," Elizabeth Ellers
"Bug Spray and a Ponytail," Tony Houck
"Chance Encounters," Sarah Barnett
"The Companion," Nancy North Walker
"The Cruciverbalist," Katherine Melvin
"Driftwood Days," Steve Saulsbury
"Grease Monkey Baby," Nina Phillips
"Independence Day," Renée Rockland
"Loose Lips," Peter Keeble
"Lucky the Chicken," David Cooper
"The Merrifield Affair," Linda Budzinski
"Out of the Blue," Justin Stoeckel
"Posturing," Fran Grote
"Rock Star," Jeanie P. Blair
"Say Yes," Renée Rockland
"Secret Message," Carl Frey
"Secrets in the Attic," MaryAlice Meli
"Snapshots in Time," Ellen Krawczak
"The Summer Jar," Donald Challenge
"Undercover Daughter," Doug Harrell
"Where Do I Begin?" Phil Giunta