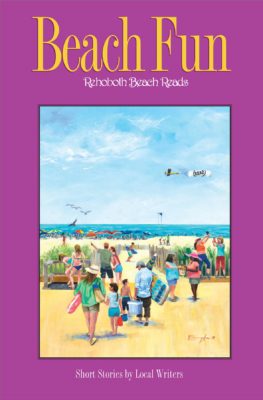 How do you have fun at the beach?
Do you bask in the sun? Play Skee-Ball and visit Zoltar? Look for romance? Or lie back and imagine sea witches, mermaids, and pirates?
In Beach Fun, you'll meet a retiree who rediscovers herself at a chocolate festival, a sea witch from a legendary shipwreck, a pair of high school football players who learn what really counts, a woman who makes a dangerous wish, and a disabled vet who finds joy again at the beach. In other words, the talented winners of the Rehoboth Beach Reads Short Story Contest have done it again.
Contents
Edora M. Duke's Flower Beds, Jennifer Logue
In Search of My Happy Dance, Marti Austin
Swallow Colors, Katie Jaywork
Best Seat in the House, Jenny Scott
Around it Goes, Terri Clifton
Beach Thief, Lonn Braender
Who is J.P.?, Cynthia Ann Koch
Living Dangerously on the Boardwalk, Jean Youkers
Pirate Moon, David Healey
Where's Miss Birdie?, Mary Staller
The Tooth Fairy's Helper, Joy Givens
Beach Bargain, Ann Nolan
Sea to Shining See, Kathleen Martens
The Best Spot, Bill Hicks
A Birthday Under the Sun, Brooke Griffin
Chicken and French Fries, TJ Lewes
Zale's Tale, Cassandra Ulrich
Wsh u wr hr lol, Joseph Crossen
Jack's Confession, Mary Dolan
Chasing Rainbows, Barbara Nuzzo
The Beginning of Everything, Andrew Kleinstuber
A Mind of Its Own, Alejandra Zambada
The Sea Witch of Rehoboth, John Leone
Afternoon Showers, Krystina Schuler
Whistles, Paul Barronet
Launch Party!
The Beach Fun launch party will be held at Browseabout Books, 133 Rehoboth Avenue, Rehoboth Beach, DE, on Saturday, November 10, 2-4pm. The event is open to the public and will include cake, wine, free raffles, and lots of authors available to sign their stories.