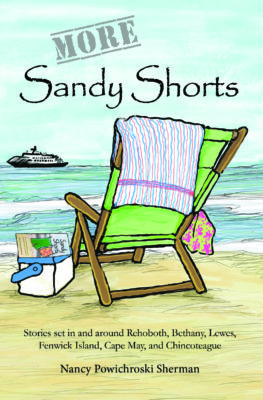 More Bad Dogs, Bad Men, and Bad Luck
No one captures bad dogs, bad men, and bad luck like Nancy Sherman. Whether it's twin terrors challenging a nanny on the ferry or hula-dancing Yorkies stealing the scene at the Sea Witch Festival, a couple rekindling romance on Fenwick Island or a seagull unlocking hope for a military widow, these stories will have you laughing, crying, and wanting more. A masterful storyteller, Sherman captures the essence of beach life in Rehoboth Beach, Lewes, Bethany Beach, Fenwick Island, Cape May, and Chincoteague. More Sandy Shorts is the long-awaited follow-up to the award-winning Sandy Shorts.
Contents
Works Hard for Her Money
Between Worlds
The Cost of Happiness
Mayonnaise Jars and a Yellow Quilt
Paddleboarding Wasn't on Her Bucket List
The Healing Power of Feeding Seagirls
Standing Up in the Limo
A Road Worth Taking
Maybe We Will
The Ethereal Shadows Left Behind
Puddle-Wonderful
A Sea Witch Festival To Remember
Nancy Powichroski Sherman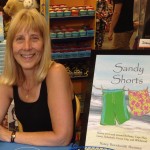 Nancy Powichroski Sherman is a storyteller. Born and raised in Baltimore, MD, she dreamed of living near the Atlantic Ocean. After over forty years of teaching, she and her husband, Matthew, moved to coastal Delaware near Rehoboth Beach and became pet parents of two bichon frises, Pookie and Zoey.
Her first collection of short stories, Sandy Shorts, was awarded a regional first place by Delaware Press Association and national first place by the National Federation of Press Women (2015). Her award-winning short stories have also been published in several anthologies: The Beach House, Beach Love, and Beach Pulp (Cat & Mouse Press); Rehoboth Reimagined and soon-to-be-released Scenes: A Collaboration of Coastal Writers and Artists (Rehoboth Beach Writers Guild); and The Divine Feminine: An Anthology of Seaside Scribes, She Writes: Visions and Voices of Seaside Scribes, and the soon-to-be-released Seaside Scribes: An Anthology of Women Rising (Salt Water Media). With her home in coastal Delaware near Rehoboth Beach and Lewes, her stories are influenced by life in beach towns.