Bad dogs, bad men, bad luck.
Nothing stands in the way of revenge, romance, and rediscovery for the women in these stories, who make the most of second chances.
Whether coming to terms with lost love, or facing real and imagined demons on an amusement park ride, these women do what it takes to survive … and then some. Stick with them through sunny days, shifting sands, stormy skies, and starry nights as they learn about life and love at the beach.
​Smile with recognition as characters in the stories run into the surf in Rehoboth Beach, ride the ferry from Lewes to Cape May, barhop in Dewey, sip lattes in Bethany Beach, stroll on the boardwalk in Ocean City, and visit the Wildwood amusement pier.
Sandy Shorts Wins First Place
The Delaware Press Association has awarded Sandy Shorts a first place in the category "Short Stories" for its 2015 Communications Contest.
DPA Judge's Comments
Can you judge a book by its cover? It is very tempting. Sandy Shorts by Nancy Powichroski Sherman sports an easy-breezy front cover that says: "Read me. Have fun."…
Sherman storytells—you listen as if she is there. She takes her time and gets it right…To my eyes, this book is beach-bag ready!
Sandy Shorts Wins National Award
The National Federation of Press Women has awarded Nancy Sherman first prize for short story collection.
NFPW Judge's Comments
Sandy Shorts is like a good day at the beach. There is beauty and sun, and even the occasional dark cloud passes quickly. The author created an interesting range of ways of telling these stories—strong narrative voices, variations in point of view and tense choices, as well as different forms and structures… Readers in pursuit of a happy ending will find a baker's dozen in these pages.
Nancy Powichroski Sherman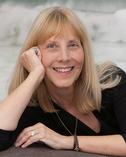 Video Interview with Nancy Sherman
Nancy has been a teacher for over 40 years, but a writer since she was old enough to sit at her bedroom window and imagine. She still finds that there are more stories than there are days in a year to write them. Currently, she is juggling several writing projects, including collaborating on a young adult novel that is scheduled for release in 2015. Nancy's Facebook page
Reader Comments
"I loved everything about this beach-themed anthology and highly recommend it to anyone who has fond memories of the Jersey, Delaware and Maryland resort towns or any other seaside area."
"If you were ever in Rehoboth Beach, you will love this book. A very good read and funny stories. The author writes very interesting short stories that you can relate to.
I can't imagine a better book to read while lolling on a Delaware beach."
Available at:
Biblion Books, Lewes, DE
Browseabout Books, Rehoboth Beach, DE
Cape Atlantic Book Company, Cape May, NJ
Mystery Loves Company, Oxford, MD
News Center, Easton, MD
News Center, Ocean City, MD
Sands of Time, Lewes, DE
Sundial Books, Chincoteague Island, VA
The Whale's Tale, Cape May, NJ
If you don't see your favorite store listed, please ask them to order! No bookstore in your area? Order here:http://www.browseaboutbooks.com/product/sandy-shorts