Sandy Paws Benefits PAWS for People
Give Two Gifts At Once
From now through the December 31, Cat & Mouse Press will donate 20% of retail purchases of the Sandy Paws to PAWS for People. The offer does not apply to store sales—only sales direct from Cat & Mouse Press.
The stories in Sandy Paws are diverse. Many are light (one concerns a dog and cat who magically switch bodies and find new ways to antagonize each other) but some are poignant. In "Trooper," a vet returns from Afghanistan, bringing with her a dog that had been injured by shrapnel. Together, they learn to overcome their fear of Cape Henlopen's sandy beach, which triggers their memories of desert warfare. The book includes photos of some of the animals that were inspirations for the stories or poems. For example, at the end of "Running with Joey" by Delaware author Sherri Wright, readers will see a picture of Joey, Sherri's running mate.
Whether they pilfer your socks or steal your heart, dogs and cats are joyful parts of our lives. In Sandy Paws, readers meet a cat who thinks he's a dog, a dog who thinks she's royalty, and people who are amused, confused, and consoled by their pets. Whether they are rescues or rescuers, the dogs and cats in Sandy Paws win readers over with skills that range from matchmaking to crime solving and from heart mending to life changing. To purchase copies of the book, go to the Shop Page or call 631-327-7700.
PAWS for People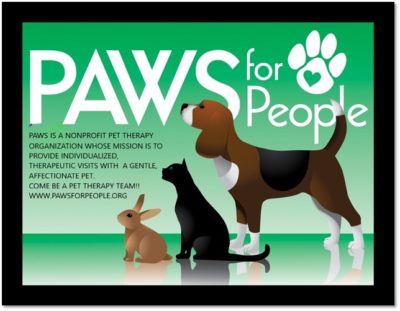 PAWS for People (Pet-Assisted Visitation Volunteer Services, or PAWS) is a nonprofit organization committed to providing therapeutic visits to any person in the community who would benefit from interaction with a well-trained, loving pet. What makes PAWS for People unusual is the emphasis they place on providing an individualized therapeutic experience for each person. Their strict standards in training and testing dogs and cats ensures that each therapy team meets the needs of the client. PAWS is most active throughout Delaware, but also serves areas in southern Pennsylvania, northeast Maryland, and southern New Jersey. PAWS visits people of all ages, ethnicities and income levels in hospitals and skilled care facilities, chemical dependency centers, and schools. For more information, visit pawsforpeople.org.