"Beach Fun" is Theme for 2018 Short Story Contest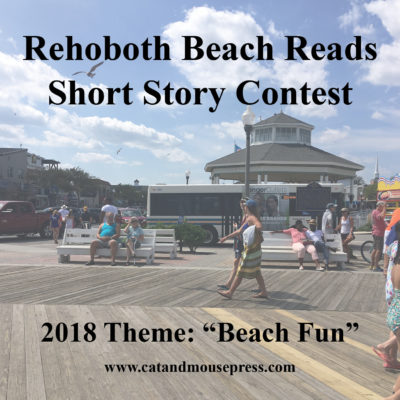 Ready to Have (Beach) Fun?
The theme for the 2018 Rehoboth Beach Reads Short Story Contest will be "Beach Fun."
The contest is again being sponsored by Browseabout Books, Rehoboth Beach, DE, and the prize money is $500 for 1st place, $250 for 2nd place, and $100 for 3rd place. We will begin accepting entries March 1, 2018. All details will be posted on this website. Follow the Rehoboth Beach Reads Facebook page for additional updates.
Each story must incorporate the Beach Fun theme and also have a strong connection to Rehoboth Beach (writers do not have to live in Rehoboth). A panel of judges (to be announced soon) select the best stories, which are published in a professionally designed and edited paperback book.
Contest Guidelines
Submission must fit the theme "Beach Fun."
Submission may be fiction or nonfiction, but must be plausible as a "beach read" (engaging, entertaining, and/or humorous).
No poetry, erotica, children's literature, or religious material.
All work must be original, unpublished, and free from libelous material (a signed release will be required).
Length must be 500–3,500 words.
Work must be submitted via email, preferably in Microsoft Word.
Work should be publication-ready (in final form and free from grammatical, spelling, and structural mistakes).
Writers retain copyright but must grant first publication rights if their work is selected.
There is no guarantee of publication.
Limit of three entries per person.
Publisher reserves right to edit for grammar and spelling; writers will be given an opportunity to review changes before publication.
No entries will be accepted after the deadline: midnight, July 1, 2018 (entries received at or after 12:01am July 2 will be disqualified).
Each entry must be accompanied by a $10 fee.
Writers do not have to reside in Rehoboth, but the written piece must include a substantive connection to the area.
Work will be judged on creativity, quality of writing, suitability as a beach read, and fit with the theme.
Enter the Contest
Email the story (include your name and phone number) to: nancy@catandmousepress.com
Pay the $10 fee by either:

Mailing a check payable to "Cat & Mouse Press" to 18508 Belle Grove Rd. #5, Lewes, DE, 19958, or
Paying via PayPal:
More information is available on the Contest Page