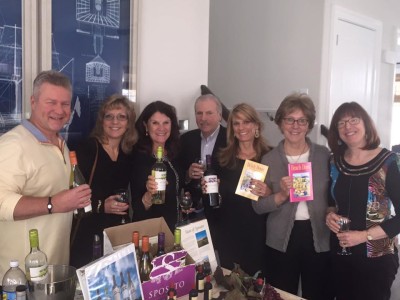 You've heard the phrase "buy local." It is meant to encourage you to shop in local stores, eat in local restaurants, buy locally made products, and support local cultural resources.
It all came together Sunday at the "Books, Bloodies, and Brunch" event put together by Delmarva Public Radio. With Cat & Mouse Press providing the books, Delaware Distilling Company providing the bloody marys, and Paul Cullen providing the brunch, not to mention some yummy wines offered up by Sposato Family Vineyards, the sold-out event offered a bounty of treats for the lucky attendees.
According to ShopLocally.com, for every $1 spent locally, 45 cents is reinvested locally. Yet, for every $1 spent at a chain store, only 15 cents is reinvested locally. The American Independent Business Alliance found that, on average, nearly half of each purchase at local independent businesses was recirculated locally. So encouraging people to buy local makes economic sense as well as moral sense.
Shopping locally:
Protects local character and prosperity
Increases community well-being
Keeps dollars in the local economy
Creates local jobs
Encourages entrepreneurship
Helps improve environmental sustainability
Supports small businesses (like Cat & Mouse Press)
Increases product diversity
Makes you feel good!
But at this event, we also encouraged people to "read local." Read local means supporting local publishers, writers, and independent stores, especially bookstores. Readings from The Beach House and Beach Days demonstrated the talents of the local writing community, and Rehoboth Beach Reads authors Glory Aiken and Dennis Lawson were on hand to prove the point. The Cat & Mouse Press table nearly overflowed with beach read anthologies, children's books, and journals. (Each attendee got a copy of the Rehoboth journal to take home.)
There's also a multiplier effect when everyone in the community buys local.
This was the example I used to explain how it works:
"Local writers create stories that I publish. Browseabout Books stocks the books I publish. You buy books from Browseabout. Browseabout supports Delmarva Public Radio. Delmarva Public Radio provides culture to the community and hosts events that serve bloody marys. Paul Cullen cooks brunch at events that serve bloody marys. I come to events that offer brunch with Paul Cullen. And so here we are: books, bloody marys, and brunch."
And that's the Buy Local philosophy in a nutshell… or perhaps egg shell.
–Nancy Sakaduski