Top Writing Tips, in a Weekly Online Newspaper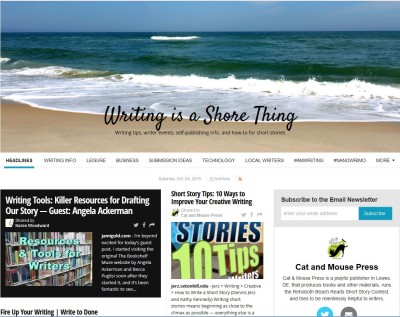 Top Writing Tips, Delivered Weekly
Writing is a Shore Thing is a weekly online newspaper that is published each Saturday morning. It provides a roundup of the week's top writing tips, advice on self-publishing, social media tools, professional writing practices, help with writing short stories, and upcoming local (DE & MD primarily) events for writers. It can be viewed online, or received weekly via email through (free) subscription. Email addresses are not used for any other purpose.
The editor of this newspaper selects content from a wide variety of sources and provides links to content by top authorities on writing, publishing, and business practices for authors. The content is separated into sections such as "Writing Info," "Business," "Submission Ideas," "Technology," and so forth. The paper provides a preview and readers can click to access the original content. Subscribers receive an email summary of the week's articles, making it easy to scan the content at a glance and read only the items of interest.
Wide Range of Helpful Content
Topics addressed in the newspaper include: writing tips for fiction and nonfiction, writing tips for short stories, use of social media to create an author's platform, technology used by writers, self-publishing tips and techniques, information on editing and revision, creating characters, describing setting, use of dialogue, and developing interesting plots. Some information is also provided on the mechanics of writing such as grammar, spelling, and punctuation. Writers at all levels of expertise will find useful writing tips in this publication.
Readers can submit web-based content of their own by tweeting the link and including the hashtag #writeshore. While writers in Maryland, Delaware, and adjoining states will find the event content particularly useful, the writing tips and advice would be useful to any writer, in any location. Information is provided for both beginning writers and accomplished authors.
Access this week's issue of Writing is a Shore Thing here.