What's a Beach Read? February 17, Brandywine Senior Living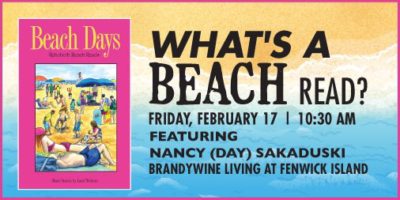 What's a Beach Read?
Ask 10 people and you may well get 10 answers. To some, "beach read" means light romance. To others, it means an intense thriller. Some may even use beach time to catch up on Dickens or Tolstoy.
Join Cat & Mouse Press owner Nancy Sakaduski on February 17 at 10:30 am at Brandywine Senior Living, 21111 Arrington Drive, Selbyville, DE, for "What's a Beach Read?," a discussion with readings from the Rehoboth Beach Reads books. The talk is free, but please RSVP: 302-436-0808. Books will be available for sale at the event.