Short Story Contest Opens
The 2020 Rehoboth Beach Short Story Contest is now open.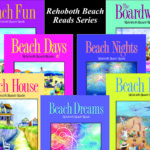 The Rehoboth Beach Short Story Contest, sponsored by Browseabout Books, is now in its eight year. The contest seeks stories of 500 – 3,500 words with a connection to Rehoboth that fit the year's theme. Prizes are $500 (1st place), $250 (second place), and $100 (third place). The top 20-25 stories will be published.
This year's theme is "Beach Mysteries," which just means the story should have some element of mystery or uncertainty. It does not have to be a traditional mystery (although those are welcome also).
The cost to enter is $10 and each writer can submit up to three stories. Writers are strongly urged to study the guidelines and read the short story contest tips, which can be found here: Contest Guidelines and Tips
The stories selected through blind judging will be published in book form as Beach Mysteries, the eighth book in the Rehoboth Beach Reads series.
Judges
Tyler Antoine
Tyler Antoine is the Program Librarian at the Rehoboth Beach Public Library in downtown Rehoboth. A graduate of the English and Creative Writing undergrad program at Temple University, Tyler spends much of his spare time reading short fiction and writing his own poems, a few of which have been published by literary magazines such as Painted Bride Quarterly, bedfellows, and Mad House. No stranger to the struggles of the submission process, he looks forward to helping shine a light on the local talent that exists so abundantly here at the beach.
Dennis Lawson
Dennis Lawson is an English instructor at Delaware Technical Community College in Wilmington. His fiction has appeared in Philadelphia Stories, Fox Chase Review, the crime anthology Insidious Assassins, and the Rehoboth Beach Reads anthology series. Dennis holds an MFA in Creative Writing from Rutgers-Camden, and he received an Individual Artist Fellowship from the Delaware Division of the Arts as the Emerging Artist in Fiction in 2014. He lives in Newark, Delaware, with his wife and daughter. For more information, visit www.dennislawson.net
Rebecca Lowe
Rebecca Lowe is the Adult Program Coordinator at the Lewes Public Library, where she is responsible for a wide range of ongoing and special library events, working with individuals and groups throughout the community to provide quality programming addressing a broad range of interests.  She also is the Development Director and helped with the capital campaign to build the new library. Prior to working at the library, Rebecca was in the field of social services, assisting survivors of domestic violence. Rebecca attended Bryn Mawr College, where she received an undergraduate degree in psychology as well as a master's degree in social services and a master's in law and social policy. Rebecca lives in Lewes with her husband, Bill, and has two children, Daniel and Hannah.
Laurel Marshfield
Laurel Marshfield is a professional writer, ghostwriter, and book coach who has helped hundreds of authors prepare their memoir, nonfiction, and fiction manuscripts for publication through her editorial services business, Blue Horizon Communications. She is also a professional intuitive and transmedium and is at work on the first of a series of novels exploring inter-species communication—from the perspective of acknowledging the sentience and sapience of all life forms.
Mary Pauer
Mary Pauer received her MFA in creative writing in 2010 from Stonecoast, at the University of Southern Maine. Pauer publishes short fiction, essays, poetry, and prose locally, nationally, and internationally. She has published in The Delmarva Review, Southern Women's Review, and Foxchase Review, among others. Her work can also be read in anthologies featuring Delaware writers. She judges writing nationally, as well as locally, and works with individual clients as a developmental editor.  Her latest collection, Traveling Moons, is a compilation of nature writing. Donations from sales help the Kent County SPCA equine rescue center. Pauer was awarded the 2019 Delaware Division of the Arts Literary Fellow in Creative Nonfiction. This is her third literary fellowship from the DDoA.
Ron Sauder
Ron Sauder is the owner of Secant Publishing, LLC, an independent publishing company based in Salisbury, Maryland, that has been publishing award-winning fiction and nonfiction books with a largely regional focus since 2014. Prior to moving to Delmarva with his wife Debbie, a chemistry professor, he spent his career in newspaper journalism and university public relations in Richmond, Baltimore, and Atlanta. He is a past president of the Eastern Shore Writers Association. See www.secantpublishing.com and linkedin.com/in/ron-sauder-005186.