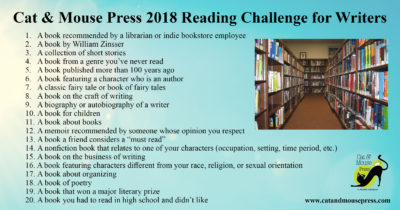 Try this reading challenge, designed especially for writers
Click here for a downloadable copy of the reading challenge: Challenge Category List. Choose a category that feels right for you and find a book you haven't read that fits it (no fair listing books you've already read!). Get suggestions from local booksellers and librarians. Follow the Cat & Mouse Press Facebook page for suggestions of books that fit various categories and feel free to suggest books in the comments areas for posts about the challenge.
Books/Resources suggested by Cat & Mouse Press or participants
1. A book recommended by a librarian or indie bookstore employee
Books librarians recommended in 2017
Diamond Ruby, by Joseph Wallace, recommended by Susan at Browseabout Books
2. A book by William Zinsser
List of books by William Zinsser
3. A collection of short stories
10 Best Short Story Collections as chosen by The Guardian
American Short Story Masterpieces, edited by Raymond Carver
Trash, Dorothy Allison
Cowboys Are My Weakness, Pam Houston
Selected Stories, Saki
4. A book from a genre you've never read
5. A book published more than 100 years ago
6. A book featuring a character who is an author
The Amazing Adventures of Kavalier & Clay, Michael Chabon
The Shining, Stephen King
The Accidental Tourist, Anne Tyler
The Hours, Michael Cunningham
7. A classic fairy tale or book of fairy tales
The Blue Fairy Book, Andrew Lang
8. A book on the craft of writing
Draft No. 4: On the Writing Process, John McPhee
A is for Author: 333 Must-Know Tips for Savvy Writers, Shayla McBride
9. A biography or autobiography of a writer
10. A book for children
11. A book about books
The Guernsey Literary and Potato Peel Pie Society, Mary Ann Shaffer, Annie Barrows
Fahrenheit 451, Ray Bradbury
The Readers of Broken Wheel Recommend, Katarina Bivald
12. A memoir recommended by som, eone whose opinion you respect
13. A book a friend considers a "must read"
14. A nonfiction book that relates to one of your characters (occupation, setting, time period, etc.)
Coming to Our Senses, Jon, Kabat-Zinn (for a character who is a yoga teacher)
15. A book on the business of writing
16. A book featuring characters different from your race, religion, or sexual orientation
17. A book about organizing
The Life-Changing Magic of Tidying Up: The Japanese Art of Decluttering and Organizing, by Marie Kondo
18. A book of poetry
Fugues, by Claribel Alegria
Traveling Moons, Mary Pauer
19. A book that won a major literary prize
20. A book you had to read in high school and didn't like
Lord of the Flies, William Golding
Send us your suggestions for books that fit the categories!

Save