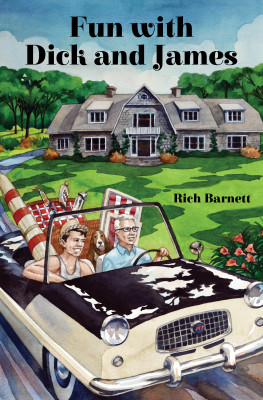 See Dick and James.
See Dick and James romp through Rehoboth.
You'd think a Delaware blue blood with a talent for shaking cocktails and a penchant for obscure historical biographies would lead a quiet life, but Dick Hunter seems to face one crisis after another. Whether it's locating the right hors d'oeuvres for a hurricane party, or just trying to take a nap, nothing comes easily, especially when you add in a meddling ex-wife and the flamboyant heir to a fading french fry empire.
Fortunately, Dick's young boyfriend, James, is more than just eye candy, even though his street-smart knack for solving problems isn't always by the rules.
Whether Dick is organizing the Daffodil Strut or just hosting a simple game of cocktail croquet, his best-laid plans often go awry, and James must come to the rescue, whisking Dick from the clutches of well-meaning friends, conniving relatives, and a scheming nemesis. With a cast of quirky characters that ranges from clueless to hip, Fun with Dick and James is a whirlwind of entanglements, misadventures, and style.
So sit back, grab a cocktail, and get ready to have fun with Dick and James.


Winner, 1st Place for Short Story Collection, Delaware Press Association Communications Contest
"A campy read. Gene Shalit defines humorous writing as sympathetic, playful, healing, and rejuvenating. The stories in this collection are solid humor." -Judge from Delaware Press Association Communications Contest
"Wonderful summer read for Rehoboth Regulars or anyone who enjoys beachtown antics, a cool summer cocktail or just an afternoon escape. A one-sitting, gay-themed comedy that took me back to Joe Keenan's farcical Blue Heaven. Thankfully, Rich Barnett doesn't leave you to sort out how to make a French 75, as all cocktail recipes are included."    – Amazon review
Save
Save
Save
Save
Save
Save